the values that we hold
Kosmoderma Skin Hair body Clinic., one of the best skin, hair and body clinics in India was founded in the year 2005 by Internationally renowned Celebrity Cosmetologist Dr. Chytra V Anand.
With US-FDA and European CE approved accreditations to its name, the brand envisions to be the leading skin, hair and body healthcare provider to the Indian masses, offering safe and effective world class procedures at affordable prices.
Our Mission is to:
Provide the best standard of healthcare in skin, hair, body and beauty maintenance
Delight our clients/patients enough to become their preferred and only choice
Become the preferred employer for the skin and beauty industry
Work with the Medical and Beauty communities to bridge the gap between medicine and beauty.
At Kosmoderma, we understand how important one's looks and more importantly overall mental and aesthetic well being is to a person and hence, our aim is always to be honest about what would be the best for the patients.
Our Achievements:
Several National and International Awards
An average of 95 thousand plus patients an year with a growth of about 4%
Pioneer in introduction of several international technologies in India
Our team
Dr. Chytra V Anand
The Founder and CEO of Kosmoderma Skin Hair body Clinic.
---
Graduated from the renowned St.Johns Institute of Dermatology in London and Fellow of Miller School of Medicine, Miami, USA - Dr. Chytra dedicated her life towards contributing to the development of the Medical Aesthetics Industry. Her determination to work 14 hours a day to fulfill her mission of making aesthetic consultation easily accessible to everyone continues to inspire upcoming dermatologists. She is the founder and driving force behind the global success of Kosmoderma Skin, Hair, & Body Clinics. .
An international KOL for all chief pharma in Medical Beauty, Dr. Chytra has performed the highest Botox and Filler Injections in India. Her accreditations include introducing fractional laser for acne scar rejuvenation, non-surgical thread lift, MediFacials, PhotoFacials, and launching the world's most powerful laser hair reduction device. A pioneer of numerous technology and procedures, mustering tons of accolades internationally & nationally, Dr.Chytra continues her pursuit with the launch of SkinQ - her latest innovation.
Featured among the Top 30 Dynamic Business Leaders in India, Tanuushka is a progressive, self-driven, ambitious professional with excellent people management skills, coaching, and leadership traits. A Hotel Management graduate from the Netherlands with an impressive 20+ years track record in international and domestic markets with demonstrated success in varied classifications of hotels & resorts in India and abroad.
Tanuushka is a firm believer in people development and is keen on nurturing leadership skills. Harbors a crystal clear foresight on revenue and ROI with being prudent in cost management, remaining in harmony, and control with operations at all levels of the organization.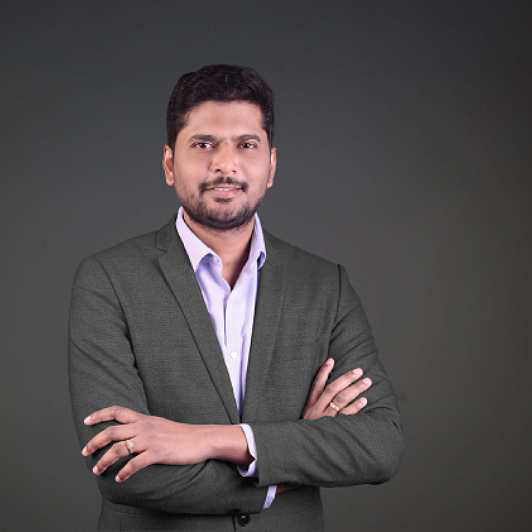 From a university rank holder in Masters in Pharmacology to achieving the 1st position in the International Conference of Recent Advances in Pharmaceutical Sciences: Transferring Knowledge, Soumitra's passion & enthusiasm in medical research made him a renowned personality in the industry. The expertise that helped him handle the strategic accounts for Pan India in some of the globally recognized companies like Allergen, Pfizer, and Glaxo SmithKline. He presided & completed 3000+ clinical facilitation, 200+ key leaders training programs, and 100+ patient education programs successfully.
Soumitra Das spearheads the sales function for Kosmoderma with his in-depth knowledge- a subject matter expert always giving the organization a competitive edge in national & international markets.
A charismatic leader and a management graduate with an extensive 20 years of sales experience, out of which 15 years are in the medical & aesthetic industry, Kishori currently heads the Kosmoderma Academy of Aesthetic Medicine. Being one of the founding members of Kosmoderma, she is keen on championing new projects, running them successfully, and driving market growth through customer satisfaction.
Being an analytical thinker and strong negotiator, Kishori is an expert in forging and executing time-tested sales strategies that ensure promising business outcomes.
Why Choose Kosmoderma ?
More Experience
Every year, more than a lakh of people come to Kosmoderma Clinic for care. Our highly specialized experts are deeply experienced in treating complex cosmetology and Dermatology cases and they continue to patronize our brand.
The right answers
Successful treatment starts with an accurate diagnosis, and our experts take the time to get it right. A team of specialists listens to your needs and evaluate your condition from every angle to make the very best plan for you.
Seamless care
At Kosmoderma Clinic, every aspect of your care is coordinated and teams of experts work together to provide exactly the care you need. What might take months elsewhere can often be done in weeks here.
Unparalleled expertise
Kosmoderma Clinic experts are some of the best in India. Kosmoderma Clinic is consistently ranked among the top Cosmetic & Dermatologist brand in the nation.
* ( Aesthetic Player of the Year South 2016,
India's Most Trusted Skin Care Clinic Brand 2015,
India's Best Medical Aesthetic Clinic Chain 2014,
India's Most Promising Skin Hair and Laser Enterprise 2014 )