Kosmoderma: Skin Specialist in HSR Layout
The latest addition to the family of Kosmoderma is the Kosmoderma's skin clinic in HSR Layout. Well, it isn't a new addition too. Plus, some of Kosmoderma's best dermatologists are in HSR Layout. It is not for nothing that ever since it set base, the dermatologists in the HSR Layout branch of Kosmoderma have been supremely busy serving the patients.
Let us tell you about the treatments that our dermatologists in HSR Layout do! Some of the most popular treatments done in the clinic are Acne treatment, Scar therapy treatment, Pigmentation removal treatment, Laser hair Reduction, Hair fall treatment, Skin rejuvenation treatment, Stretch marks removal, Body Shaping treatment, Permanent Fat Reduction treatment, Botox Treatment, Dermal Fillers, Medifacials, Face Beautification & Glamorisation and Maintenance of Skin.
Kosmoderma: The Best Skin Clinic in HSR Layout
Kosmoderma HSR Layout has been awarded as the Best Skin Clinic from time to time. Be it our happy clients who spread the word about the good work that we do or the award ceremonies where we get facilitated, Kosmoderma Skin, Hair & Body Clinics, HSR Layout is committed to the cause of making skincare and skincare treatments the best for our clients.
Trust Building

Customer Satisfaction

Hassle-Free EMI

U.S.A. FDA Approved Technology
The Best Dermatologist in HSR Layout
To become the best dermatologist in HSR layout or anywhere else for that matter, the skin specialist has to be extremely well versed and experienced with the work they do. In addition to this, the team has to dedicate time for continued research and improvement. If the awards come in, that is great, but maintaining a customer satisfaction score of 4.9/5 means something after all.
The technology used at Kosmoderma Skin, Hair & Body Clinics, HSR Layout, is US-FDA and European CE approved. And while we are the best clinic in HSR Layout, we make sure to stay up to date by continuously engaging in thorough research and analysis.
Our team of expert dermatologists in HSR Layout are always working on finding the best ways to treat client's concerns to achieve the best results.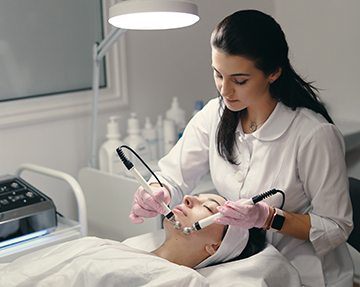 In addition to this, Kosmoderma has been the pioneer in bringing some state-of-the-art skincare treatments from across the world to India and modifying them to suit Indian skin types. For instance, be it Kosmo Sculpt, Botox, Hi-Fu, Soprano ICE Laser, or others, they were first launched at Kosmoderma only, which is why some of the most well-known celebrities, socialites, and political leaders of South India believe in Kosmoderma.
REAL PEOPLE, REAL STORIES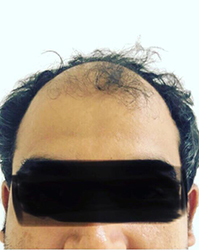 BEFORE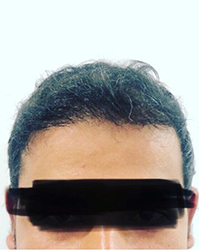 AFTER
Hair Fall Treatment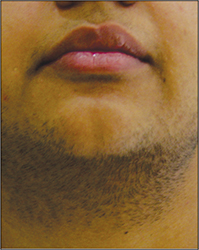 BEFORE
AFTER
Laser Hair Treatment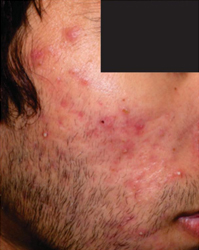 BEFORE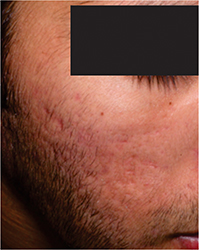 AFTER
Acne Treatment
BEFORE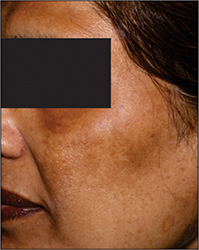 AFTER
Pigmentation Treatment
Dr. Chytra: Bangalore's Best Skin Doctor
Dr. Chyta V Anand is an Internationally acclaimed Celebrity dermatologist and cosmetologist. She is a celebrated speaker in Cosmetic Dermatology and the medical director and founder of Kosmoderma Skin, Hair & Body Clinics.
In addition to this, Dr. Chytra is also actively involved in shaping the medical and cosmetology domain's education scenario. She is a Syndicate Member of the Rajiv Gandhi University of Health Sciences and a Governing Council of Deutsche Cleft/ABMSS.
She also takes lectures across multiple colleges of national and international reputation and has been spearheading the initiative to help make people aware of the importance of Cosmetic Dermatology and the related procedures.
Book Your Appointment
Book your appointment with our team of leading Dermatologists, Trichologists and Cosmetologists & move a step further towards Flawless Skin , Luscious Locks and a Perfect Body.
Frequently Asked Questions
Is there a solution to permanently treat my Acne?
Can the dermatologists in the HSR Layout branch of Kosmoderma help with dark spot reduction?
Do the skin doctors in the HSR Layout branch of Kosmoderma cure dark Skin?
Do you do Hair transplant treatment at Kosmoderma?
What are the common hair fall treatments done at Kosmoderma, HSR Layout?
How can I remove Dark Circles permanently?
Are tea bags helpful for dark circles?
Which areas are treated under hair removal treatment?
What should be your skincare routine for oily skin?
What are the side effects of acne treatment?
Quite possibly, yes. However, we would suggest that you should first visit our dermatologists in HSR Layout. Once our skin doctor in HSR Layout has examined your Skin and the AcneAcne, they will be in a better position to address your concern. Acne is generally treated using various treatments like Chemical peels, lasers, clean medical ups & steroid injections.
Of course, they can. It is not just dark spot reduction, but the team can also assist with pigmentation concerns, scars and marks, skin tan, and skin lightening.
Just like a dark spot, dark Skin can be treated too. The treatment, however, is a function of multiple reasons at play. Hence, before somebody promises you something randomly over the internet or you feel too infatuated with a certain fairness cream, do visit your skin doctor in HSR Layout to get a better understanding of the treatment options available for you.
Yes, we do hair transplant treatment at Kosmoderma. We also make sure that the period after the hair transplant treatment has been done is closely monitored for best results.
At Kosmoderma, HSR Layout, we have a wide array of services to treat hair fall, PRP therapy, Advanced PRP Therapy, GFC Therapy, Kosmo Hair Gen, Laser therapy, and Growth Factor Therapy are treatments that our doctors most frequently use to help control hair loss and promote hair growth.
The major Causes for the dark circle :
Iron deficiency
Friction/ rubbing the eyes/ friction caused while removing the eye makeup every day
Genetics
Weight loss
Deep-set eyes
Under-eye hollowness
Smoking
Lack of sleep
Excessive sun exposure
Dehydration
Stress
The Skin around the eye is very sensitive and thin. .The key recommendation is to cut down the tea/caffeine consumption. If the dark circle is because of the deep-set eyes/ hollowness; Fillers are the solution. If it is because of pigmentation, hydration, chemical peels, topical creams are the solution. And also treat the cause for the dark circle.
Using tea bags on your eyes is a popular home remedy for dark circles. Teabags may help improve your eyes' appearance by reducing dark circles, puffiness, and redness. They may also help to treat irritation, styles, and pink eyes.

Green tea bags have higher flavonoid content; loaded with antioxidants and plenty of tannins, green tea bags shrink swelling and reduce the fluids around the eyes.
Laser hair removal is highly effective and gentle enough to be used even on body-sensitive areas. The most common areas of the body treated are the face, underarms, back, legs, chest, bikini area, toes, stomach, buttocks.
When the sebaceous glands produce excess oil or sebum, it leads to oily skin. Oily Skin can also result from several other factors beyond your control, such as genetics, humid weather, stress, and hormonal changes.
If you have oily Skin, developing and sticking to a skincare regimen that focuses on moisturizing your skin and keeping it hydrated will give you the best results.
CLEANSER :
Start your morning skincare routine with a gentle cleanser. A cleanser helps remove excess oil and impurities from your face and keeps your pores unclogged. Use a Foaming cleanser with AHA or BHA.
TONER :
Use a toner as the second step in your morning skincare routine. Using a toner can help unclog your pores, regulate your Skin's PH level. A skin toner can be used to deep cleanse the skin.
MOISTURISER :
Just as you would moisturize dry Skin, moisturizing oily skin is also essential. Moisturizing your skin can help reduce sebum production while improving its texture. For Oily Skin, using a non-greasy moisturizer is ideal.
SUNSCREEN :
Sunscreens also come in non-greasy formulas that are perfect for oily skin. Avoid using sunscreen packed with heavy, oily ingredients, as it could only end up harming your skin.
Redness, dryness, itchy skin are some of the side effects of acne treatment, so it is important to consult a qualified dermatologist.
Clients Speak

Ms. Parvati Nair
Actress
Kosmoderma clinics help me in my skin maintenance by providing me refreshing and amazing treatments when I come down to Bangalore. After a long shoot in the harsh weather conditions, I just love the way I am taken care of at the clinic. Thank you team Kosmoderma.

Ms. Aishwarya Raghunath
I always suffered from excessive hair growth in my body and felt very conscious while wearing short dress or sleeveless. When I visited Kosmoderma & had a consultation with Dr.Fauziya , I was immediately convinced. Doctor explained so well and was very sweet. Right now with just 3 laser hair reduction sessions, I'm already feeling super confident and seeing the result. Special mention to Mohana & Santosh for being very caring, took care of my safety. Thank you so much. Best team and best service !
Ms. Mallika Raiker
I'm really happy to say that Dr.Jyothi and Dr. Sharanya have given good treatment at Kosmoderma . I'm really happy with their services. Thank you.
Ms. Anusha Gladys
Have been visiting the branch for almost 5 months for my skin treatment. I like the treatment. The procedures were worth. I got very good result . Dr.Sharanya is very nice and friendly. The therapist Rupa and Kavitha are very supportive. I would like to thank Dr.Sharanya and whole team of Kosmoderma.
Ms. Keerthana Podval
Actress
I have had a beautiful experience with Kosmoderma clinics . All of us expect the best service and care and that is what we get at Kosmoderma. I would like to thank my friend Hollyann, who referred me to kosmoderma.A special thanks to the team of doctors. They are simply marvellous!!

Ms. Priyanka murthy
Im very much satisfied with treatment for acne and scars. Thank you to doctors, Rashmi, Jyothi and Sharanya. Also staff members Rupa and Kavitha. Kosmoderma has very calm ambiance and well equipped with advanced machinery for treatment. I would also like to thank Khadir for helping me book the appointment and guiding throughout.

Ms. Sharmiela Mandre
Actress
Kosmoderma has always been a place special to me . Right from the ambience to the treatments everything has always been perfect . And a special mention to the lovely staff . Every visit with kosmoderma will make you feel delighted and more confident.
Our Clinics
KOSMODERMA SKIN HAIR BODY CLINIC HSR Layout
AddressNo 822, 1st floor, 27th Main Rd, Sector 1, HSR Layout, Bengaluru, Karnataka 560102