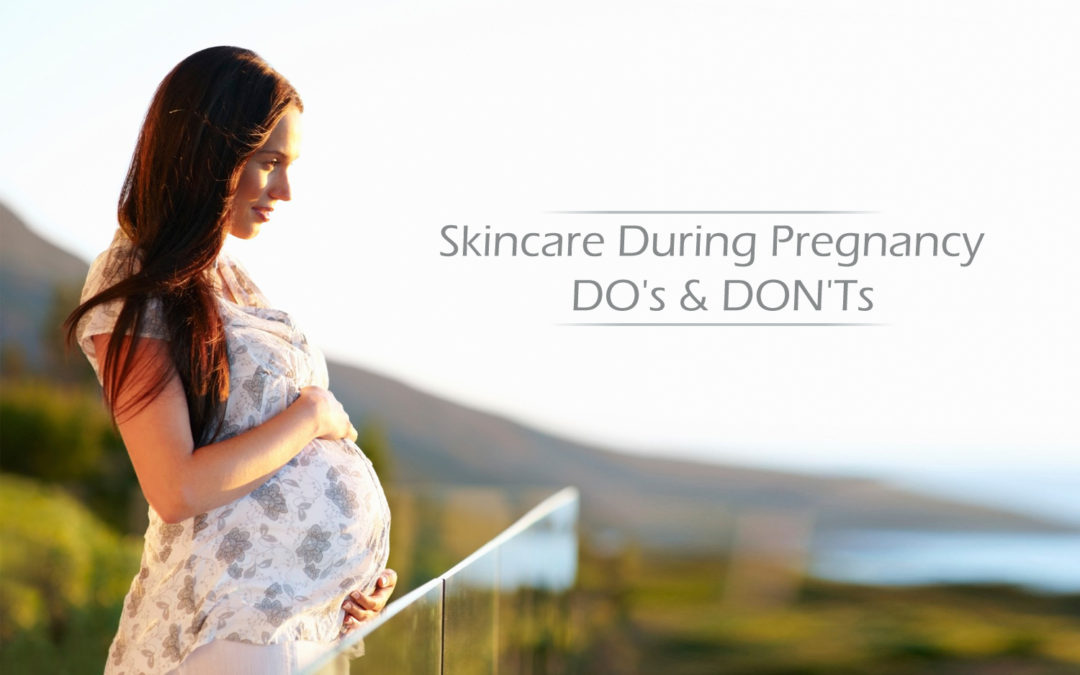 Skincare During Pregnancy : DO's & DON'Ts | Kosmoderma
What ingredients to avoid in a skincare
Many of us are told to slather on lotions & moisturisers on the body during pregnancy to avoid stretch marks but we may not know what might be passing the skin's barrier and being absorbed into our bodies. Most over-the-counter products by reputable brands are safe. And if you are applying these products to less than 10 percent of your total skin surface, the risks of systemic effects are very low. But, it's important to discuss any product you use on your skin during pregnancy with your dermatologist.
There's a handful of ingredients considered potentially harmful to a growing baby. Please follow Kosmoderma's guideon what ingredients to avoid in a skincare. Also, if you are planning to breastfeed,continue following the guidelines until you stop nursing.
Do not use Retinoids
Retinoids are found in some anti- aging moisturizers. These are a type of vitamin A that speeds up cell division and prevent skin collagen from breaking down.
But retinoids are one of the skin- care ingredients that expectant moms should stay away from. Some studies have shown that high doses of vitamin A during pregnancy can be harmful to an unborn child. And oral retinoids, such as isotretinoin (Accutane, an acne treatment), are known to cause birth defects.
There is no data to show these retinoids ingredients are harmful when used on the skin- but it is good to be extra cautious.
Avoid certain products for Acne
If you"re dealing with pregnancy- induced acne, consult a dermatologist. Stay away from leave- on acne lotions, gels, and creams, as well as at- home peels, which can contain salicylic acid or retinoids. Using a facial wash that contains no more than 2 percent salicylic is considered safe. And of course do not take oral form of the retinoid Accutane. Glycolic acidinAHA,is safe to use.
Avoid Salicylic acid
Salicylic acid is another no- no for pregnant women. High doses of the acid in its oral form have been shown in studies to cause birth defects and various pregnancy complications. Small amounts applied to the skin are considered safe, but doctors are being cautious by recommending that pregnant women should avoid the topical use of salicylic acid.
This mild acid is used to treat certain skin disorders, including acne, and you can find it in a number of skin products, such as cleansers and toners and exfoliants. If you must have a skin peel, have it done professionally at your dermatologist"s clinic. A dermatologist will know how to do it safely during pregnancy.
Avoid Soy
While soy- based lotions and facial products are generally safe to use, Soy can make the "mask of pregnancy" (dark patches on facial skin) worse. Soy has estrogenic effects, which can make those dark patches, also known as melasma or chloasma, deeper. If you have dark skin or melasma, avoid these products, or choose "active soy" products from which the estrogenic components have been taken out.
Skin Care product that you MUST USE!!!
Sunscreens
Sunscreens, including those with ingredients that penetrate the skin, are perfectly safe during pregnancy. Also, Titanium dioxide and zinc oxide- are powerful physical sunscreens and do not penetrate the skin.
In addition to sunscreen, we advise sun- smart behaviours- avoiding the sun between 10 a.m. and 4 p.m., using a sun hat, sunglasses and sun- protective clothing; and reapplying your sunscreen every two hours. This helps with pregnancy mask and aging process.
Kosmoderma has a range of medical graded products called "Kosmocare" that are safe to use during pregnancy. Consult our dermatologist to know more about Kosmocare product line. We also offer specially designed treatments that are safe for pregnant women for acne, pigmentation, detoxification, hydration and more…
Kosmoderma Skin, Hair & Lasers Clinics are dedicated to medical excellence in the field of Cosmetic Dermatology with international accreditation and facilities.
We offer scientifically proven treatments using US FDA approved technology. All our products have undergone extensive research and trials in USA, Europe and India. We pride ourselves in offering safe, effective and affordable treatments with high standards of quality. Kosmoderma gives personalized consults with skin care and uses facial analyzer and 3D imaging of the skin to analyze and personalize the treatments and skin regimen.