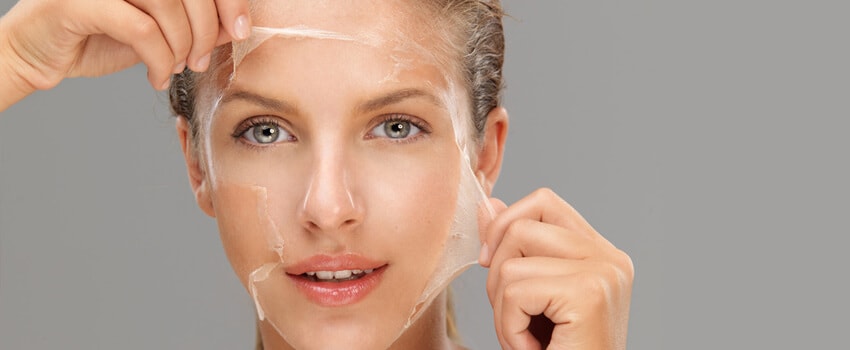 Why Peels and not Peel-Offs | Kosmoderma
Peel offs as cosmetic products for exfoliation and skin care were probably among the first of our introduction to the world of beauty. Well of course, they came in handy- just a squeeze, application, drying and peeling off was all that took.
Add to that the tingling sensation that came on peeling the mask off. Indeed we felt satisfied and our skin seemed to glow.
Further advancements added to the ingredients and our simple peel off masks came with active charcoal too promising removal of even deep seated impurities and cleaning up the pores thoroughly
But do these peel off masks actually work or is it only in our heads? But, if not peel offs then are peels any better?
This blog aims to answer this dilemma.
How Peel off Masks work?
Peel off masks work by sticking to the skin surface in their liquid form. In the process of drying up, these masks attach themselves to the skin forming a bond with the dirt and dust particles on the surface.
When dried and peeled, the mask comes off and the impurities and excess oil come along with it. Our blackheads and whiteheads which are essentially the excess oil and impurities clogging the skin pores thus come off.
In some cases, the mask peels off the finer facial hair too which makes the skin appear lighter. It has been claimed that peel off masks containing activated charcoal seep into the deeper layers and can remove the impurities from the deeper layers but no experimental evidence has yet substantiated the claims.
How Peels Work?
Chemical peels on the other hand involve peeling off of the skin by application of an acidic solution in order to boost collagen production which in turn facilitates skin regeneration.
The chemical solution thus applied to the skin causes it to exfoliate and eventually peel off giving way to the generation of fresh skin.
The new, regenerated skin is usually smoother and less wrinkled than the older one because of the boosted collagen production.
A comparison of Benefits
Unlike the acid solution used in chemical peels which seeps into the deeper skin layers to facilitate the skin peeling and also skin rejuvenation, peel off masks work on the surface itself.
In some cases, dermatologists have also claimed that the fact that the patients can themselves peel the mask off and feel the tingling sensation results in more of psychological perception of skin improvement as against any actual changes.
However, considering that not everything can be psychological, peel off masks mostly have exfoliating effects on the skin.
Chemical Peels on the other hand have the following benefits:
Reduction of fine lines and wrinkles
Removal of dead skin cells
Smoothening of the rough texture
Improvement of skin hydration
Skin softening and reduction of open pores
Lightening of pigments and dark spots
Reduction in the appearance of acne scars
Reduction and drying out of active acne
Exfoliation of razor bumps
Reduction of ingrown hair
Enhancement of homecare programs by allowing deeper penetration of active products
We feel enough has been said already. Now, while we would suggest a Chemical Peel over a Peel off, ultimately it is your skin and your choice!
Kosmoderma Skin, Hair & Lasers Clinics are dedicated to medical excellence in the field of Cosmetic Dermatology with international accreditation and facilities.
We offer scientifically proven treatments using US FDA approved technology. All our products have undergone extensive research and trials in USA, Europe and India. We pride ourselves in offering safe, effective and affordable treatments with high standards of quality. Kosmoderma gives personalized consults with skin care and uses facial analyzer and 3D imaging of the skin to analyze and personalize the treatments and skin regimen.