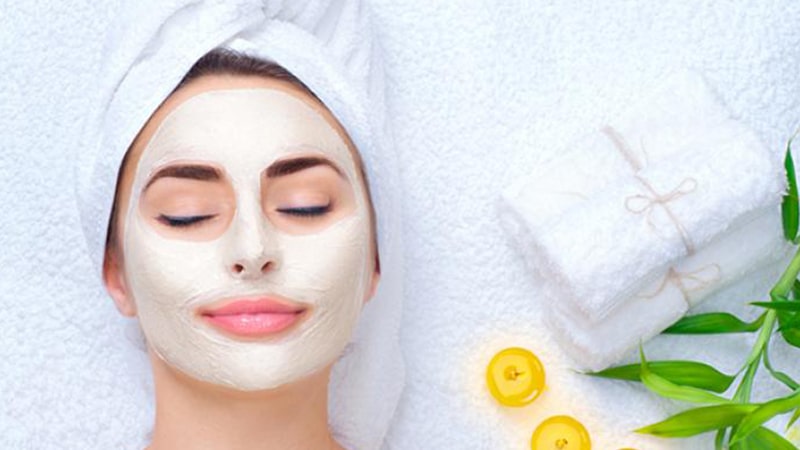 7 DIY Beauty Treatments for Your Face By Kosmoderma | Kosmoderma
For centuries DIY beauty treatment has been almost every woman's secret. Handed down by generations from moms to the daughters, the DIY treatments have been the secret behind many glowing faces. From home-made face washes to scrubs, from face packs to masks, the range of DIY beauty treatments for face is many folds. Traditionally, ingredients from the kitchen, home garden are used for a DIY beauty treatment. With the advent of many new elements in the market, the recipes for these DIY facial treatments are getting innovative. The ingredients range is vast and varied from herbs and spices to actives like peptides, hyaluronic acid, glycolic acid, salicylic acid, etc. DIY beauty treatment has always been and is still a popular choice today. Some of the reasons why DIY treatments are popular are that they are easy to perform at your convenience, carry age-old secrets, have natural ingredients, and are inexpensive. Not everyone has the means or the time to go in for professional procedures often; that is where these DIY beauty treatments come in handy. And in this day and age, it's not limited only to women, but men have also become a fan of DIY facial treatment.
7 Best DIY Beauty Treatments for Your Face By Kosmoderma
Most DIY treatment is about facial toners, scrubs, and masks. Here are the top 7 popular ones.
For T zone only:
Ingredients:
15gms (1 Tbsp) Gelatin
10 ml (2 Tsp) Milk
Add on: 2 gm: Coffee /Turmeric powder / Green Tea powder
Oily skin with pores: Coffee powder
Acne-prone Skin: Turmeric
Pores: Green Tea
Steps :
Mix the ingredients in a small bowl. Heat for 8 to 10 seconds in a microwave
Apply to T Zone in a thick layer
Let dry 10 to 15 minutes
Slowly roll the edges and peel off.
The edges can be washed off.
Points to Note :
After warming the mix, check the temperature and apply to face
Apply a thick layer over another layer
The combination will cool fast and harden, so you have to be quick with this beauty treatment for face
If applying for face, Don't use on areas with fine fluffy hair as it can pull this out
Apply Vaseline on this area to protect from pulling
Choose the add on based on your skin type.
You can use this mask without the add on just as an exfoliant
2.Dark Circle Mask: (Make this, store in a glass bottle and preserve it for 4 weeks)
Ingredients:
15 ml (1tbsp) Cold Pressed Coconut Oil
2 drop Lavender Essential Oil
1 Fish Oil capsule ( Prick and pour the content into the mix)
2 drops Sandalwood Essential Oil
Coconut oil nourishes and moisturises the skin
Lavender Oil is anti-inflammatory
Fish Oil capsule nourishes the skin providing essential surface skin nutrients
Sandalwood is a potent calming agent and brightens the skin tone
Steps :
Mix the Oils and store it in a glass bottle
Every night Apply this Mask to the eye area on the upper and lower lids and leave on overnight as a mask
Use your ring finger to apply the mix from inner eye to outer eye.
Points to Note :
If you have oily skin, use on alternate nights
Don't warm this mix. It will lose its active properties
Apply only to clean skin
This under eye mask is an effective DIY treatment for face.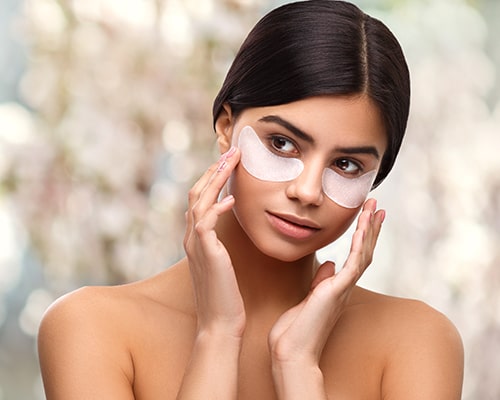 3.Inflamed Skin Gel Mask:
Ingredients:
1 tsp organic Turmeric or fresh Turmeric paste
1 tsp organic or fresh Aloe Vera Gel
Add on: 2 drops RoseHip oil
Turmeric is a potent anti-inflammatory
Aloe Vera gel has antiseptic, anti-inflammatory and hydrating properties
RoseHip Oil helps reduce skin redness and inflammation
Steps :
Mix the ingredients in a bowl.
Apply right away to clean face
Allow it to sit for 15 to 20 minutes
Wash with cool water
Apply ice cube in strokes to face for 2 -3 minutes
Dab dry
This Gel Mask is a celeb secret DIY treatment from Beauty Guru Dr Chytra Anand. Her Celebrity patients do this before events to calm their skin before makeup.
4.Hydrating Skin Calming Mask:
Ingredients:
One-forth Cucumber pulp
Half tsp Aloe Vera
3 Crushed Basil leaves
3 Crushed Mint Leaves
Cucumber has calming and hydrating properties
Aloe vera has soothing effect and moisturising benefits
Basil Leaves are anti-inflammatory
Mint Leaves are refreshing for the skin and have brightening properties
Steps :
Mix ingredients
Apply to clean face to hydrate it
Leave on for 10 to 15 minutes and wash off
This mix is a suitable DIY facial treatment for sensitive and dehydrated skin
5.Cleansing Face Solution:
Ingredients:
1tbsp Rice atta/Rice powder
1 tsp Honey
1tbsp Milk
Honey is a gentle cleanser that softens the skin
The rice powder gently exfoliates
Milk is a mild exfoliant due to lactic acid and has skin de-tanning properties
Steps :
Mix the ingredients together.
Use this to apply on face and gently rub on the skin for 1 to 2 mins
Wash off with cool water
This mix is a unique DIYfacial treatment
6.Breakout / Acne Control Mask:
Ingredients:
1 tsp Organic Honey
Half tsp fresh crushed Cinnamon
Half tsp fresh shaved or powdered Nutmeg
1 pinch of freshly crushed Black Pepper
Cinnamon is an antiseptic with astringent benefits.
Nutmeg is exfoliating on the blemishes.
Honey is a natural anti-bacterial and softens the skin.
Black Pepper helps unclog pores
Steps :
Mix the ingredients in a bowl.
Apply to clean and dry skin for 10 minutes max.
Wipe off the face and then wash skin with water
This mask is a popular beauty treatment for the face for acne-prone skin with inflamed acne.
It can also be applied on the spot overnight for reducing pimple size.
7.De-Tan Mask:
Ingredients:
1 small piece mashed Pumpkin
1 small piece mashed Papaya
Half tsp lemon juice
Half tsp crushed Orange Peel
Pumpkin and Papaya are antioxidants and contain enzymes that soften the dead skin on the face.
Lemon juice is acidic and acts as an exfoliator
Orange Peel helps to remove surface impurities
Steps :
Mix the ingredients in a bowl.
Apply to the clean face and mildly scrub into the skin for 1 minute in circular motions
Leave on for 15 minutes
Wash off
Points to Note :
Can be used once a week to detan the skin
The fruit-infused mask is a popular DIY treatment suitable for all skin types.
While at-home beauty treatment for face is popular, it is important to note that DIY instructions have to be carefully followed. The active ingredients can benefit skin or harm it.
Kosmoderma Skin, Hair & Lasers Clinics are dedicated to medical excellence in the field of Cosmetic Dermatology with international accreditation and facilities.
We offer scientifically proven treatments using US FDA approved technology. All our products have undergone extensive research and trials in USA, Europe and India. We pride ourselves in offering safe, effective and affordable treatments with high standards of quality. Kosmoderma gives personalized consults with skin care and uses facial analyzer and 3D imaging of the skin to analyze and personalize the treatments and skin regimen.