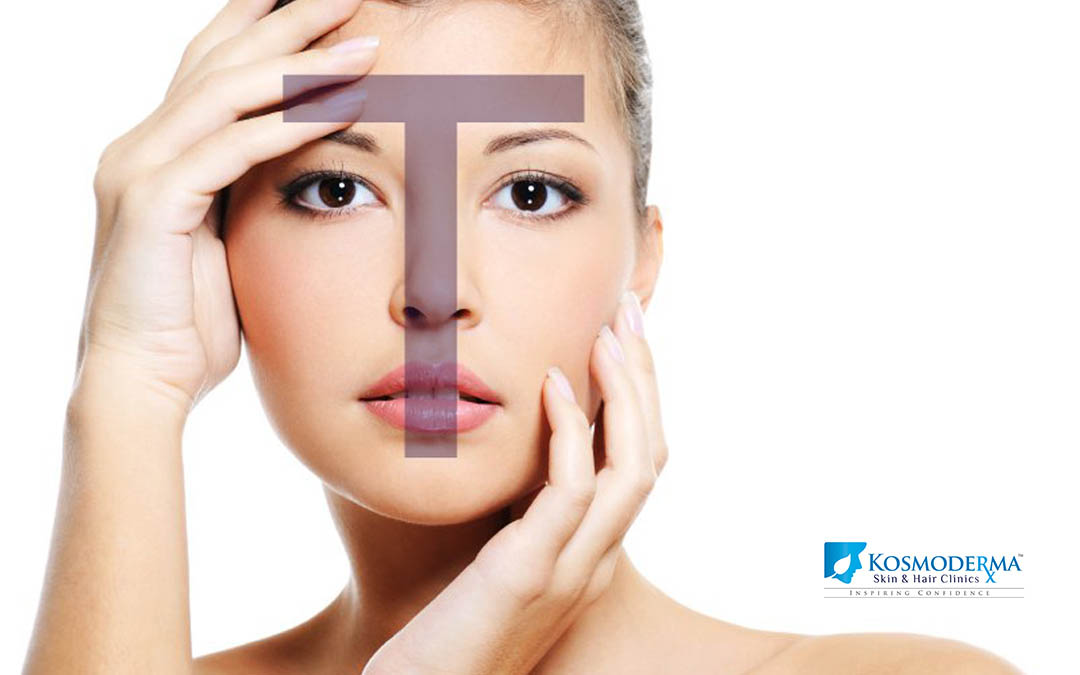 Are you confused about your skin type?
May be it's a combination skin!
A spotless, fresh and radiant skin grabs attention. However, it is not easy to keep your skin looking healthy at all times. No matter how diligent you are with your skin care, it's easy to make little mistakes that can lead to a flawed complexion. The most important thing that one must know before choosing the skin care is to know the skin type.
The initial quality, or type, of your skin is genetically determined, however, individual skin type may change over a period of time due to factors like climate, diet, medications, hormonal changes, stress, overall lifestyle and of course aging.
There are five basic skin types – Normal, Dry, Oily, Combination and Sensitive
Let us understand what is combination skin, how it works and skin care for the same.
Combination skin is just what the name implies- dry in some parts of the body and oily in other areas. The facial skin tends toward dryness on the cheeks and around the eyes while being oily in the t-zone, that is – nose, forehead and chin. Combination skin can have shiny skin and pores that look larger than normal in the T – zone area. It may also have blackheads and acne over the T-zone and dry, flaky and dull skin on the cheek area.
Combination skin also means that you may have fine lines and wrinkles and shininess and breakouts at the same time. You may also experience rosacea on your cheeks and large pores on your nose. Of course this combination of characteristics and problems can make combination skin, particularly difficult to deal with. It's very difficult to understand and treat combination skin by yourself in such cases. It's best to visit a dermatologist for home care regimen and to treat any concerns that you cannot address at home.
How to determine your skin type?
First and foremost, it's important to determine your skin type. To determine your skin type, press a blotting paper or a clean facial tissue onto the face first thing in the morning.
In combination skin the tissue will have traces of oil coming from your nose and forehead, but will be clean in the areas that touch the cheeks. Whereas, in normal and dry skin the tissue will be clean and in case of an oily skin, spots of oil will be present in areas of the cheeks, nose and forehead.
How to care for combination skin?
Combination Skin may sound a bit tricky, but if one can give it a targeted care it's very simple to handle it.
Cleanser: Use a gentle cleanser instead of harsh soaps to wash your face. The cleanser should be fragrant and irritant free.
Toner: A mild repairing toner should be used. Avoid using toner on the dry areas.
Sun care: No matter what skin type you are, sunscreen is important to protect the skin from UV radiation induced damage in all seasons and to delay photo ageing.
Moisturize: Apply moisturizers in lotion or cream form to dry areas, avoiding the oily areas. Use a light moisturizer for oily areas.
Exfoliate: To open up the pores and get rid of blackheads from oily area and to remove the dead skin cells from the dry area exfoliation is very important. It also allows moisturizers to penetrate. Use a gentle scrubber to exfoliate your skin at least once a week. Avoid rubbing dry area too much.
Specific treatments: Use anti-acne products over the acne prone areas depending on the severity of acne. If the flakiness or sensitivity is too much on the cheeks, use Aloe Vera or olive oil. You may also use, oil based moisturizer only on cheeks.
So combination skin is not something that you cannot deal with. If you follow these tips and improve your lifestyle habits, you can easily tackle it. Do exercise regularly, it gets the blood pumping, which delivers key nutrients to your skin. Also, Stress free life and good sleep all add up to good skin as stress can make your skin more reactive. And last but not the least, drink lots of water and eat fresh fruits and vegetables to keep your skin hydrated from inside.
Kosmoderma Skin, Hair & Lasers Clinics are dedicated to medical excellence in the field of Cosmetic Dermatology with international accreditation and facilities.
We offer scientifically proven treatments using US FDA approved technology. All our products have undergone extensive research and trials in USA, Europe and India. We pride ourselves in offering safe, effective and affordable treatments with high standards of quality. Kosmoderma gives personalized consults with skin care and uses facial analyzer and 3D imaging of the skin to analyze and personalize the treatments and skin regimen.