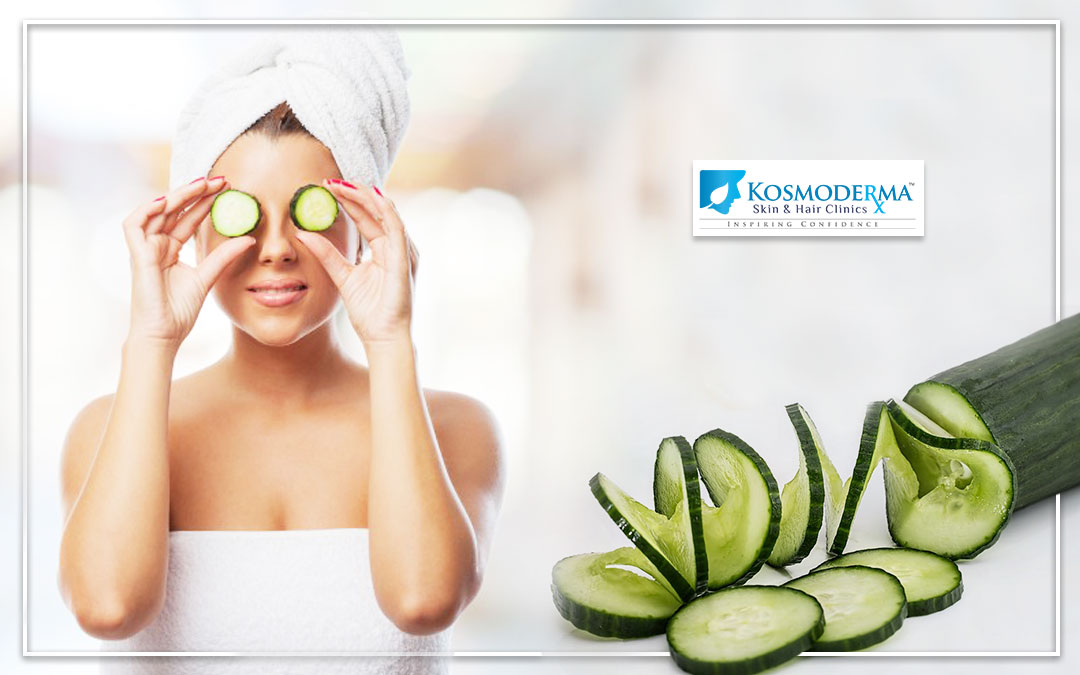 Cucumber: One of the best summer fruits for your skin & hair!
Cucumbers to soothe and soften the skin
An essential in most salads, the flavor of refreshing cucumbers entices everyone in the summer heat. It's a joy to have a cool bite of this crisp, nutritionally dense vegetable that is packed with nutrients. This versatile vegetable is made up to 95% water, which makes it naturally low in calories, fat and cholesterol.
As simple as these cylindrical fruits may look, cucumbers have properties that can soothe and soften the skin with many other benefits and is also very good for hair.
Get flawless skin
Cucumber juice is ideal to be used as a cleanser to relive blemishes and acne. Cucumbers have the same pH like your skin, so it helps the natural healing process of your skin. Cucumber also has skin tightening properties. It cleanses the skin removing impurities and dead skin cells and tightens the pores, leaving them smaller and less likely to become clogged.
Anti-aging properties of cucumber
A member of the melon family, Cucumbers contain vitamin C, an antioxidant – but remember not to peel the skin as that's where most of the vitamin C is located. The presence of ascorbic acid, or vitamin C, makes cucumber juice a particular effective ingredient in anti-wrinkle products. Its seeds are rich in Vitamin E and potassium which help in reducing fine lines, wrinkles, blemishes and other signs of ageing.
Hydrates, soothes & energizes
A great source of B vitamins and so it will energize you instantly. Pantothenic acid, or vitamin B-5, found in cucumbers help your skin retain moisture. Cucumbers have high water content and a cooling quality, making them appropriate to help soothe mild burns, particularly sunburn. They can also reduce swelling and relieve minor skin irritations. Cucumbers are also a source of vitamin A, vitamin D, fiber, sulfur and calcium.They provide you with skin-friendly minerals potassium and magnesium.
Dark Circles
They also have plenty of vitamin K, also an antioxidant, which fights dark circles under the eyes. This skin lightening effect can also make your skin appear youthful and glowing. This is why a couple of cucumber slices placed over tired eyes can make you look refreshed.
Puffy eyes
Cucumbers contain ascorbic and caffeic acids, which are good for bringing down under-eye puffiness and swelling under the eyes.
Combats dark spots
The vitamin A, or retinol, in cucumbers fights dark spots and freckles because it helps control your skin's production of melanin and thereby even out the skin tone. Minerals and vitamins present in cucumber are best for skin care. Cucumber juice is a natural skin lightening agent which ultimately helps to improve skin tone naturally.
Cucumbers for Hair
Cucumbers are one of the most effective natural alternative treatments for dealing with thinning hair and promoting hair growth. The juice of the cucumber has strong properties that can slow down the process of hair loss. The juice of the cucumber contains manganese, silicon, potassium, phosphorus, calcium, sulfur and sodium; all of these are beneficial for the hair. Not only can the juice boost hair growth, but it can also provide you with shiny, smooth, and manageable hair.
You may now savor salads garnished with cucumbers more than what you used to do before! So eat cucumber by itself or mix it with your favorite salad or make a refreshing chilled drink by adding mint, salt & pepper. These veggies can also be added to smoothies, pickled, spiralized into veggie noodles, and even used in desserts!
You can also use cucumber on your skin & hair.
Skin masks:
Cucumber Juice and Milk Powder
Try this milk powder face whitening beauty trick to get fair skin naturally. Mix milk powder with cucumber juice and apply as a face pack. Applyi this face pack 3 times a week to improve skin color and texture. Get soft, smooth and fair skin with cucumber skin whitening remedies.
Cucumber Skin Toner
Cucumber skin toner is the best skin tonic which suits for all skin types. Cucumber juice is a natural skin toner and you can buy ready-made cucumber skin toner available in the market. Simply spray it all over the face and neck. Massage face with cotton balls and leave it for 20 minutes. If needed reapply the toner for 3-4 times. It gives instant brightness, freshness and fairness to skin naturally.
How to make a cucumber hair mask?
Cucumber Hair Mask
1 tbsp. of olive oil, 1 egg, 1 quarter of peeled cucumber
Blend all the ingredients using a blender or a food processor. Wait until they are blended smoothly and thoroughly. Apply the mixture to your hair and leave it on for 15 minutes. Rinse your hair thoroughly. Do this procedure once monthly for strong and shiny hair.
Kosmoderma Skin, Hair & Lasers Clinics are dedicated to medical excellence in the field of Cosmetic Dermatology with international accreditation and facilities.
We offer scientifically proven treatments using US FDA approved technology. All our products have undergone extensive research and trials in USA, Europe and India. We pride ourselves in offering safe, effective and affordable treatments with high standards of quality. Kosmoderma gives personalized consults with skin care and uses facial analyzer and 3D imaging of the skin to analyze and personalize the treatments and skin regimen.