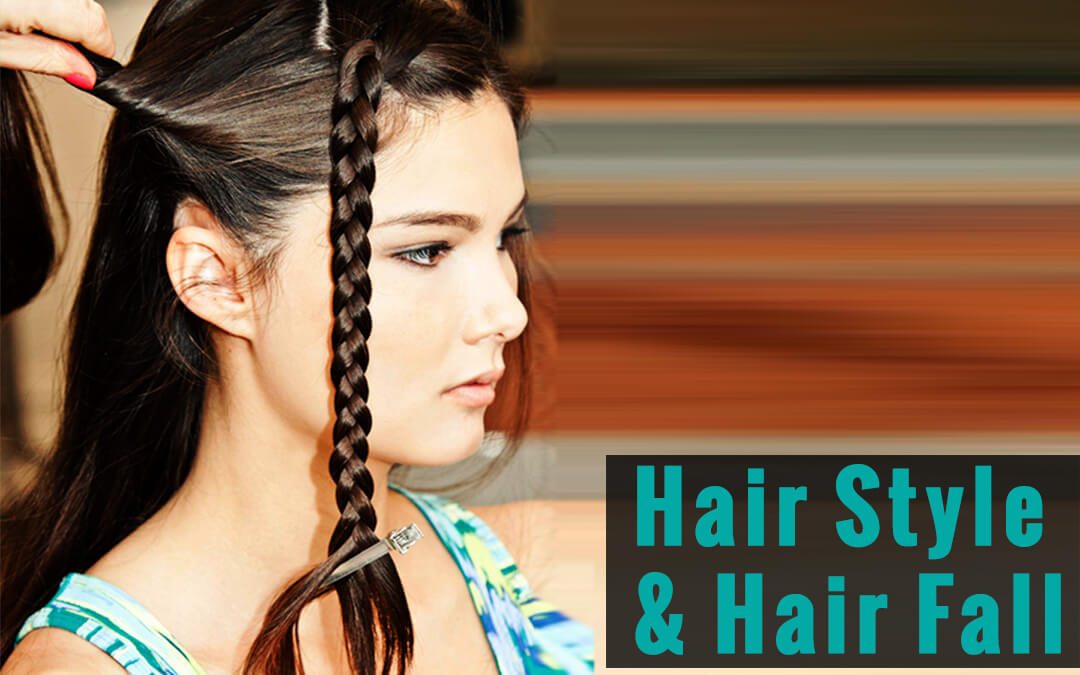 Hair Style and Hair Fall
How you style your hair?
I remember when I was 5, my mom used to tie my plaits so tight that it would hurt. But I didn't mind it as I was told that your hair grows much faster & healthier if you tie them tight. Sound familiar? I am sure many of us still believe that! Only when I was 9, my mom started noticing a receding hairline on my forehead. She took me to a doctor who revealed that I might never grow hair on my forehead hairline as I had developed Traction alopecia!
Unlike a hair pluck which is painful, persistent gentle pulling may go unnoticed until bald spots or alopecia start to appear. Traction alopecia takes place when braids are applied too tightly. The tension on the hair can literally cause the root of the hair to be torn out. After a while the follicle may stop functioning, resulting in no hair growth.
Where there are early signs of traction alopecia it would be advisable to immediately stop braiding. This action alone can often be enough to allow the hair root to recover, a. As this type of hair loss tends to be temporary. Hair growth can reappear in as little as twelve weeks. In cases where the area has been stressed for 3 years or more the damage. Often the only treatment option is a hair transplant but this can be problematic if the hair loss is extensive and has jeopardized donor sites.
How you style your hair, along with the styling tools you use, can cause significant hair damage. This damage can cause your hair to look brittle, frizzy and lackluster or even fall out!
Dermatologists are starting to see more women with traction alopecia in these times when large numbers of women are having hair extensions, wefts, braids and clip-ins. Some women with curly hair turn to braids and weaves, and because these hairstyles can be costly, they wear it for extended periods. Even tight ponytails can produce traction alopecia, which means the new style of the 'man braid' and the 'man bun' can also have an effect on men's hairlines.
While hair styling is the most common cause of traction alopecia, it can also follow vigorous combing or brushing, including nit combing after an attack of head lice. Prolonged tension leads to inflammation around the hair follicles that may ultimately produce scarring and lead to hair loss*.
Avoid tight braids and weaves at all cost. The tighter it is plaited, the more damage it causes. So if you like to plait tight remind yourself that you don't want a face lift and then ease the tension.
However, for most people, a cure is available with their own hair brush. People are often surprisingly resistant to changing their hairstyle. Unfortunately the only measure that halts progression of traction alopecia is redistributing the tension in the hair.
It's possible that with time, if you stop pulling your hair tight and concentrate on improving the skins elasticity by massaging and promoting blood circulation, that the hair will start to regrow.
Kosmoderma Skin, Hair & Lasers Clinics are dedicated to medical excellence in the field of Cosmetic Dermatology with international accreditation and facilities.
We offer scientifically proven treatments using US FDA approved technology. All our products have undergone extensive research and trials in USA, Europe and India. We pride ourselves in offering safe, effective and affordable treatments with high standards of quality. Kosmoderma gives personalized consults with skin care and uses facial analyzer and 3D imaging of the skin to analyze and personalize the treatments and skin regimen.