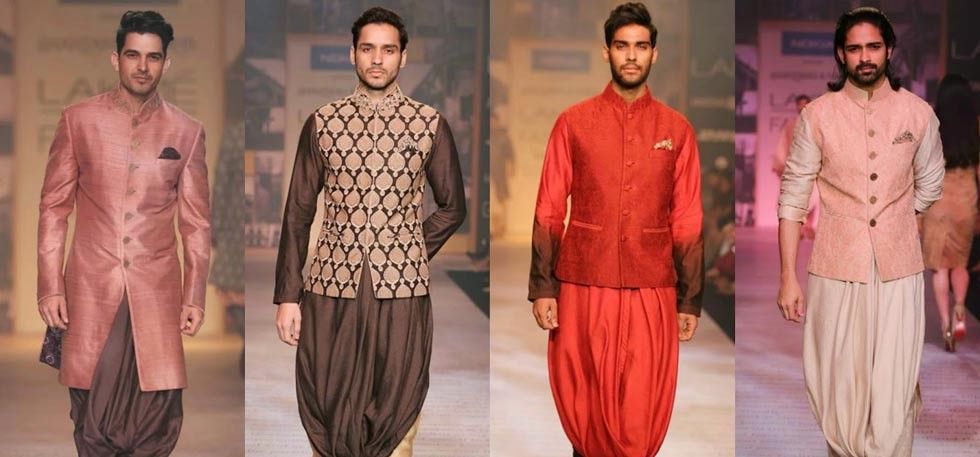 Rocking the Party with Desi Swag!
Fashionable to be Worn in Party
The end of Diwali usually marks the beginning of another season of festivities! Festivities which come in the form of pre, during and post wedding functions.
There used to be a time when weddings meant going for westerns only. Then, fashion changed and we graduated to Indo-western but when we really really grow up, we realise that the swag that Indian ethnics hold is unparalleled and so we go back to the basics and dawn those awesome as ever traditionals which we once saw our grown ups wearing.
This blog is more of a listicle, shortlisting 5 of the most trendiest and not too upwardly fashionable to be worn in your circle dresses which our men can rock in the parties and rock the parties in the process.
The Dhoti-Kurta-Jacket Ensemble
Dhoti Kurtas have always added to the glamour quotient and now when we have become so health conscious over time, the physiques that we have built over time- the dhoti kurta just adds to the awesomeness that we are.
But, don't play it dull with beige and cream shades. This season, revel in the colors of happiness and go bright like the fella in the image below.
Also, you don't have to go all shimmery. Go for silk dhotis with crisp silk kurtas and jackets and let the clothes be your identity!
The Usual but the Bright!
Kurta, Nehru Jackets and Choodidars are the usual but this time, brighten up the ambience with more cheerful colors. Also, there is nothing like, "girly colors". There are colors that look good on you and colors that don't and dull colors like your typical shades of white and dark ones which are mainly black for our male friends here- ditch them this time.
The world is flashy and you need to flaunt it. Like our guy here is doing so effortlessly in the image below.
The Two Color Code!
If bright isn't your thing and it will make you more uncomfortable than anything, well then there is a smart and sleek option for you too. Go for metallic shades- more matte then shiny. Options, well the one below; other options can be pastel brown and grey.
The Evergreens!
We did tell about the trend but then we have somethings which are evergreen, never losing their charm! The browns, creams and beige of the world will always be in trend. They might not set you apart because they are so common but they will make you look good for sure!
Here have a look below:
The balloon churidars- only do not over balloon them and make them look like a chandelier! That kills the dress totally. The balloon extent in the image below is just right. Plus the fact that the jacket has a shade darker and brighter than the rest of the outfit puts more oomph in the over all ensemble.
The classic plain white kurta and Nehru Jacket- perfect till you are going to the wedding of an acquaintance and not a close friend. An acquaintance and not a friend because- well, you have to be the smarter one in the crowd and definitely not the "one" in the crowd!
And to end it, well quirk is important in life and so if you really want to stand out and are sure you can pull it off too, here is something for you- The smart new age "metro-sexual" Umbrella Kurta!
Believe us, you don't always have to pull off a Ranveer Singh to look quirky, just the right touch is all you need!
With all this, have fun this wedding season and make sure that you shine! Also, if you want any quick tips. Just drop us a message on Facebook and Miss Kay will be there for you!
Kosmoderma Skin, Hair & Lasers Clinics are dedicated to medical excellence in the field of Cosmetic Dermatology with international accreditation and facilities.
We offer scientifically proven treatments using US FDA approved technology. All our products have undergone extensive research and trials in USA, Europe and India. We pride ourselves in offering safe, effective and affordable treatments with high standards of quality. Kosmoderma gives personalized consults with skin care and uses facial analyzer and 3D imaging of the skin to analyze and personalize the treatments and skin regimen.