Snacking Done Right | Kosmoderma
5 low calorie and super healthy snacks
This blog aims at busting the myth that it is only junk food which can qualify for being called as snacks.
The guide to losing weight lies in snacking- well you can call them smaller proportions of healthy food as well.
This blog aims at busting the myth that it is only junk food which can qualify for being called as snacks.
Have a look at the 5 low calorie and super healthy snacks perfect for your health routine and thank us later!
Mixed Nuts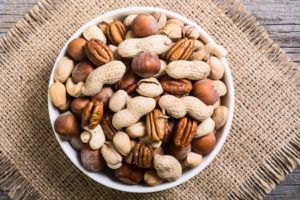 The ideal nutritious snack which not just provides you with the essential nutrients but also help burning fats.
Mixture of nuts such as almonds, raisins, cashews help in reducing the risk of heart diseases and considering that they are high in healthy fats, they fill once appetite fast thus preventing any sorts of random eating.
Nuts are a perfect balance of healthy fats, proteins and fiber and a serving of about 28 grams contains approximate 180 calories.
Cottage Cheese with Flaxseeds and Cinnamon

While cottage cheese is a rich in protein diet which essentially due to its structure is very filling, it also contains linoleic acid which is instrumental in body fat reduction.
Flaxseed and cinnamon on the other hand control body sugar and improve gut function which helps in better metabolism and lesser fat deposition.
Whey Protein Shake
Commonly known as the diet body-builders or gym enthusiasts take, whey protein helps one to gain muscle and lose fat.
A 20-25 gram serving of whey protein contains 150-200 calories enough energy for a decent workout and to keep you filled up for long (in case you do not work out).
Also, the fact that it is liquid gives you a change from the usual biting and chewing routine.
Edamame

A dish of unripened soybeans, it is a great healthy snack for vegetarians in specific. Edamame is rich in kaempferol- an antioxidant responsible for blood loss and lower blood sugar levels. In addition to this, it is also a rich source of folic acid, magnesium and manganese- all the minerals which can keep you from feeling hungry.
Eat it roasted with spices. A 17g serving of roasted edamame contains about 150 calories
Dried Unsweetened Coconut

High in medium-chain fats, dried coconut boosts metabolism and promotes weight loss while also improving the brain functions mainly related to memorisation.
A serving of 30g of unsweetened dried coconut contains about 180 calories.
Kosmoderma Skin, Hair & Lasers Clinics are dedicated to medical excellence in the field of Cosmetic Dermatology with international accreditation and facilities.
We offer scientifically proven treatments using US FDA approved technology. All our products have undergone extensive research and trials in USA, Europe and India. We pride ourselves in offering safe, effective and affordable treatments with high standards of quality. Kosmoderma gives personalized consults with skin care and uses facial analyzer and 3D imaging of the skin to analyze and personalize the treatments and skin regimen.