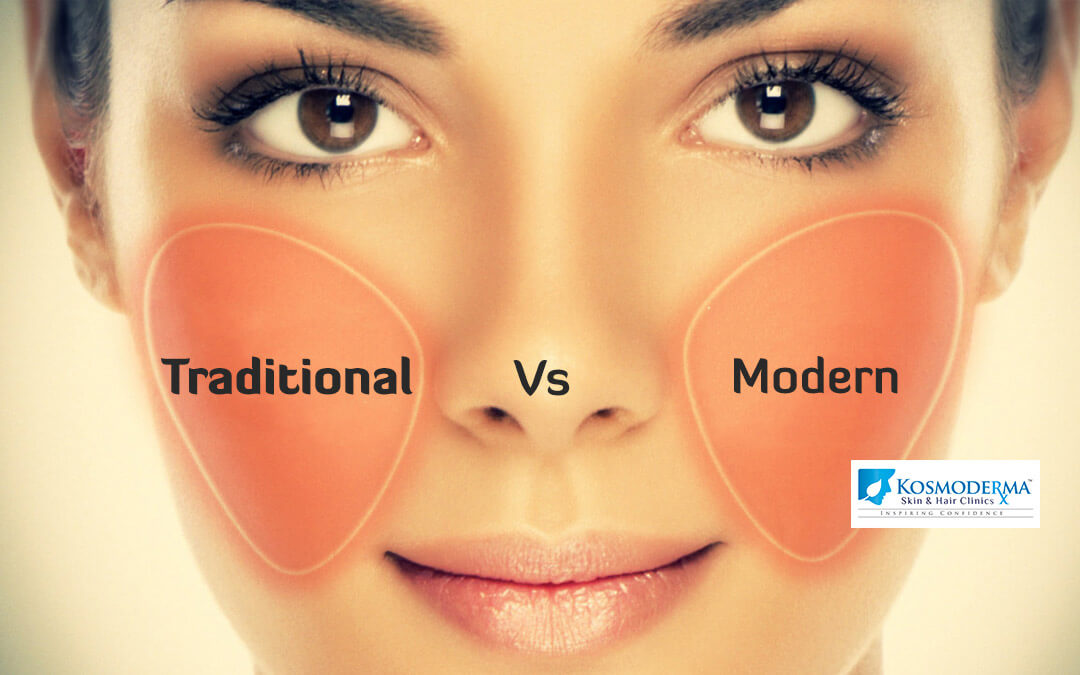 Traditional Versus Modern Acne Treatments
Studies have shown that there are several cures for acne
Acne aka pimples aka boils aka zits... is a growing concern among many teenagers and young adults globally. Despite of advanced medical research, etiology of acne still remains unidentified. As we are all aware pimples aggravate because of many reasons like pollution, oily skin, stress, food habits, hormonal issues, etc. and most of the times its a concoction of multiple factors.
Whatever may be the reason, it's usually a blockage of glands giving rise to black heads, white heads, boils and pimples. Furthermore to add to the agony is its trail of scars, pigmentation and open pores!
Studies have shown that there are several cures for acne, from local home remedies to modern scientific ones. Traditionally people used to go to a beauty parlor to treat acne. Even though facials hydrate the skin and brightens it for about a week, a series of harsh facials eventually may cause dehydration and scarring. Lasers and peels on the other hand, help correct the issue from the roots and give results*.
Conventional acne treatments don't always work for everyone. They can also cause side effects ranging from skin irritation to damage. For example, tea tree oil is an essential oil extracted from the leaves of a small tree native to Australia. In 1990, researchers studied 124 acne patients. Some were treated with 5% tea tree oil in a water-based gel, others were treated with 5% benzoyl peroxide. Tea tree oil did not work as quickly as benzoyl peroxide, although its use resulted in a similar reduction in acne lesions after three months. But because the results are very slow, severe acne may result in pigmentation or even scarring if not treated soon enough.
Modern treatments of acne have come a long way and is evolved towards not only reducing the number of acne but also duration of each episode so as to prevent scarring and pigmentation.
The whole idea of treating acne is to kick start your skin's immunity and ability to fight the bacteria and rebuild the skin texture. This is best done with chemical peels and LED lights which work on desquamating and re-epithelization of the skin, that removes a few dead layers of our skin so as to start production of new skin layer which is more healthier.
Patients often have this question that if chemical peels exfoliate the skin, why can't we use a scrub to exfoliate? Scrubbing is not uniform and removes only dead skin superficially. Black heads and white heads cannot be removed completely by scrubbing. Harsher scrubs are more damaging to the skin and gives skin a patchy feel. On the other hand, peels help remove black and white heads along with giving your skin a kick start to produce newer and healthier skin.
Modern laser technologies help treat red boils with ease. They help treat acne that does not respond to oral tablets and creams. They work on reducing the inflammatory phase of acne and thereby reducing scarring. Acne scars, the next phase of challenge is more treatable with the advent of modern lasers.
These are called 'weekend procedures' as these also have very less down time, which allows one to get back to work within a day.
It's alright to try out the traditional methods to treat mild acne but its not advisable to DIY (Do It Yourself) when it comes to severe acne and too many blackheads & whiteheads. So if you have any term symptoms of acne, it is important to consult a dermatologist before starting on any medication or treatment.
Kosmoderma Skin, Hair & Lasers Clinics are dedicated to medical excellence in the field of Cosmetic Dermatology with international accreditation and facilities.
We offer scientifically proven treatments using US FDA approved technology. All our products have undergone extensive research and trials in USA, Europe and India. We pride ourselves in offering safe, effective and affordable treatments with high standards of quality. Kosmoderma gives personalized consults with skin care and uses facial analyzer and 3D imaging of the skin to analyze and personalize the treatments and skin regimen.